If you made a purchase, then it is on its way to your inbox. Before you go we have this special offer for you:
Get Five 

EIGHT 

SAT Math Prep Books For The Price Of

THREE 

– Just $87

(Save $152!)
Now includes two additional books for the SAT math subject tests.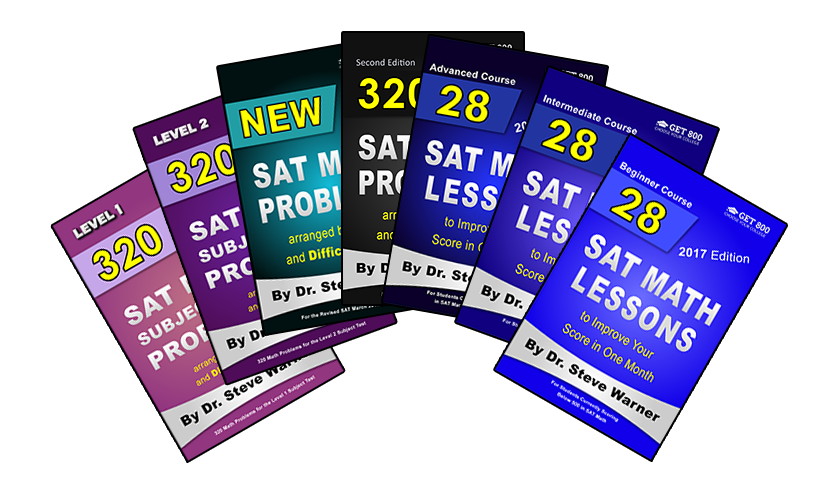 SAT prep can be very easy or very difficult. It all depends on how you prepare. Many students make the mistake of spending countless hours preparing for the SAT with little to no results. The Get 800 collection of SAT prep books was written by Dr. Steve Warner, a math professor and test prep expert who has been helping students get exceptional SAT math scores for more than 15 years.
You will receive all of the following in PDF format for immediate download:
All three books in the 28 SAT Math Lessons series
320 SAT Math Problems
New SAT Math Problems
The 32 Most Effective SAT Math Strategies 
320 SAT Math Subject Test Problems (for the Level 1 and 2 tests)
Several bonus guides including a diagnostic test with solution guide, a formula guide, and two challenge sets
Click the YES button to make this purchase or click the NO button to reject this offer. If you would like to see how to use these books properly in conjunction with each other, scroll below the buttons.
If you have ANY questions, please contact:
The following infographic teaches you how to use these books together for maximum results.

© 2014 GET 800 LLC | All rights reserved.